Ohshima Tsumugi and textiles are most famously made from the Amami Islands, a small area located between Kagoshima (which is closer to mainland Japan) and Okinawa. You can see it as a singular cluster of an island on this map: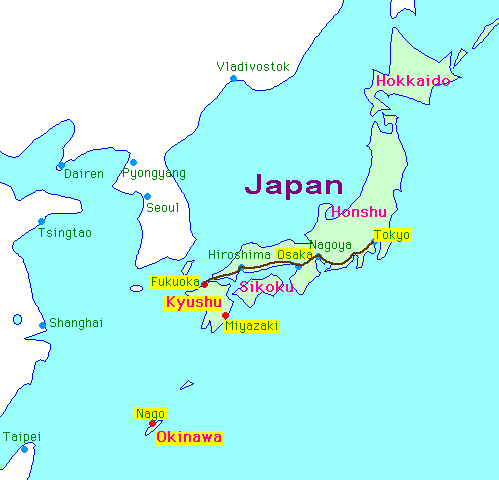 As quoted from the first reference website below:
Unlike the typical Japanese kasuri, Ohshima-tsumugi is distinctive in its shiny black-brown color, symbolic design, and the complexity of the process of creating. Ohshima Tsumugi represents all the qualities of Japanese high-grade silk fabric with symbolic patterns and textures. It is dyed with a special mud and wood from a native tree (Teichigi/Sharinbai) which exists only in Amami-Ohshima. It is made through a complicated process, through which it takes up to one year to complete a single cloth.
1. Zuan (Design): The design of Ohshima Tsumugi is written on graph paper as series of dots.
2. Norihari (Starching): Starching and drying a group of threads with Funori (glue made from seaweed). For the process of weaving preliminary blocks, the necessary number of threads is glued together.
3. Shime (pronounced "Shee-may": Binding): Weaving preliminary blocks before pattern dyeing. Silk thread (the woof) is bound with cotton thread (the warp) according to the design before dying. The total binding spots in one cloth can reach several million.
4. Some (pronounced "So-may": Dyeing)
Step one: Initial dyeing with Teichigi (Sharinbai): Broken pieces of the local Teichigi tree are boiled for 14 hours in a big pot. The binding threads are dyed in this liquid 30 or 40 times and become dark-red.
Teichigi tree pieces
Step two: Secondary dyeing with Mud: The binding thread is then dyed again in mud 3 or 4 times. Eventually the thread turns black.
These two dying processes of step one & step 2 are repeated 5 times. It takes 10 years to learn the dying technique.
5. Kakoh (Additional process): Unraveling preliminary blocks and dyeing preliminary woven blocks. In this process the cotton thread which binds the silk threads is carefully untied taking care not to damage the silk. The bound spots are still white because they were tied so tightly. These spots are then dyed with another colorful dye.
6.Ori (Weaving): The silk threads are arranged on the Takahata (weaving machine). As the weaving begins several clear figures, which are called Kasuri designs, appear on the cloth. It takes about one month to weave a cloth.
The two most commonly seen types of Ohshima textile these days would be:
1. Doro-ohshima: the traditional process of dyeing by Teichigi (Sharinbai) and doro (mud). The characteristics of this dorozome are a shiny texture with a deep black and brown color.
2. Doroai-ohshima: a type of dyeing where the cloth is redyed with doro and teichigi after a first dye of Ai (Japanese indigo). Due to the combination of doro and ai, the background color is deep back and the design is indigo.
The most popular motif is common on men's kimono. 4. Kikkoh gara (male): Unlike designs for female's tsumugi, repeated small designs are often used for male's tsumugi. The design of kikkoh (turtle shells) is one of the most popular traditional designs, which is originally from the 7th century in Japan.
More information on the textiles of the Amami Islands below.
http://www.csuchico.edu/~mtoku/vc/Exhibitions/ohshima/voices.html
http://en.wikipedia.org/wiki/Amami_%C5%8Cshima
Admin




Posts

: 179


Join date

: 2009-08-16


Age

: 35


Location

: Tampa, Florida





Similar topics
---
Permissions in this forum:
You
cannot
reply to topics in this forum